PERANCANGAN SISTEM ANTRIAN ANTI COVID 19 BERBASIS INTERNET of THINGS MENGGUNAKAN RASPBERRY Pi W ZERO
Keywords:
raspberry pi, IoT, queuing system
Abstract
Utilization of electronic technology in various aspects of human life, both in household needs, education, industry, and human habitation itself. In this discussion is how to design a queuing system based on the Internet of Things using a Raspberry Pi W Zero controller. Internet of Things is a concept in which an object or object is implanted with technologies such as sensors and software with the aim of communicating, controlling, connecting, and exchanging data through other devices while still connected to the internet. In designing this queuing system, a website is needed to support this tool to make it easier for users to register online without having to manually take queue numbers. The programming language used for the Raspberry Pi W Zero controller uses python. Testing this queuing system 100% went well and according to what was designed for the design of an Internet of Things based anti covid 19 queuing system using the Raspberry Pi W Zero. With this tool, it can make it easier for users to register queue numbers and be able to run the appropriate Health protocol system.
References
Adrianto, D., Yesmaya, V., Agung, A., dkk. 2015. QR Code Reader pada Smartphone Android untuk Aplikasi Layanan Restoran.
Azanella L. A. 2020. Apa itu PSBB Hingga Upaya Pencegahan Covid-19.https://www.kompas.com/tren/read/2020/04/13/153415265/apa-itu-psbbhingga-jadi-upaya-pencegahan-Covid-19.Diakses pada 10 Juni 2020.
Dwi, V. R., Sugito, & Yasin H. 2013. Analisis Model Waktu Antar Kedatangan dan Waktu Pelayanan pada Bagian Pendaftaran Instalasi
Rawat Jalan RSUP Dr. Kariadi Semarang. Prosiding Seminar Nasional Statistika.Semarang : Universitas Diponegoro.
Fernando 2014. "Automatisasi Smart Home Dengan Raspberry Pi Dan Smartphone Android," in Konferensi Nasional Ilmu Komputer (KONIK) 5
Kadir Abdul, 2005. Dasar Pemrograman Python, Penerbit Andi, Yogyakarta.
Nick Heath. 2012. [Online]. Available:https://www.techrepublic.com/article/raspb erry-pi-zero-wireless-the-smart-personsguide/.
Purnawan, D. 2013. Analsis Model Antrian Perbaikan Sepeda Motor dengan Menggunakan Program Visual Basic. Semarang: Universitas Negeri Semarang.
R. N. Dasmen dan R. M. N. Halim 2018. "Implementasi Papan Informasi Digital menggunakan Raspberry Pi 3 pada STIPER Sriwigama Palembang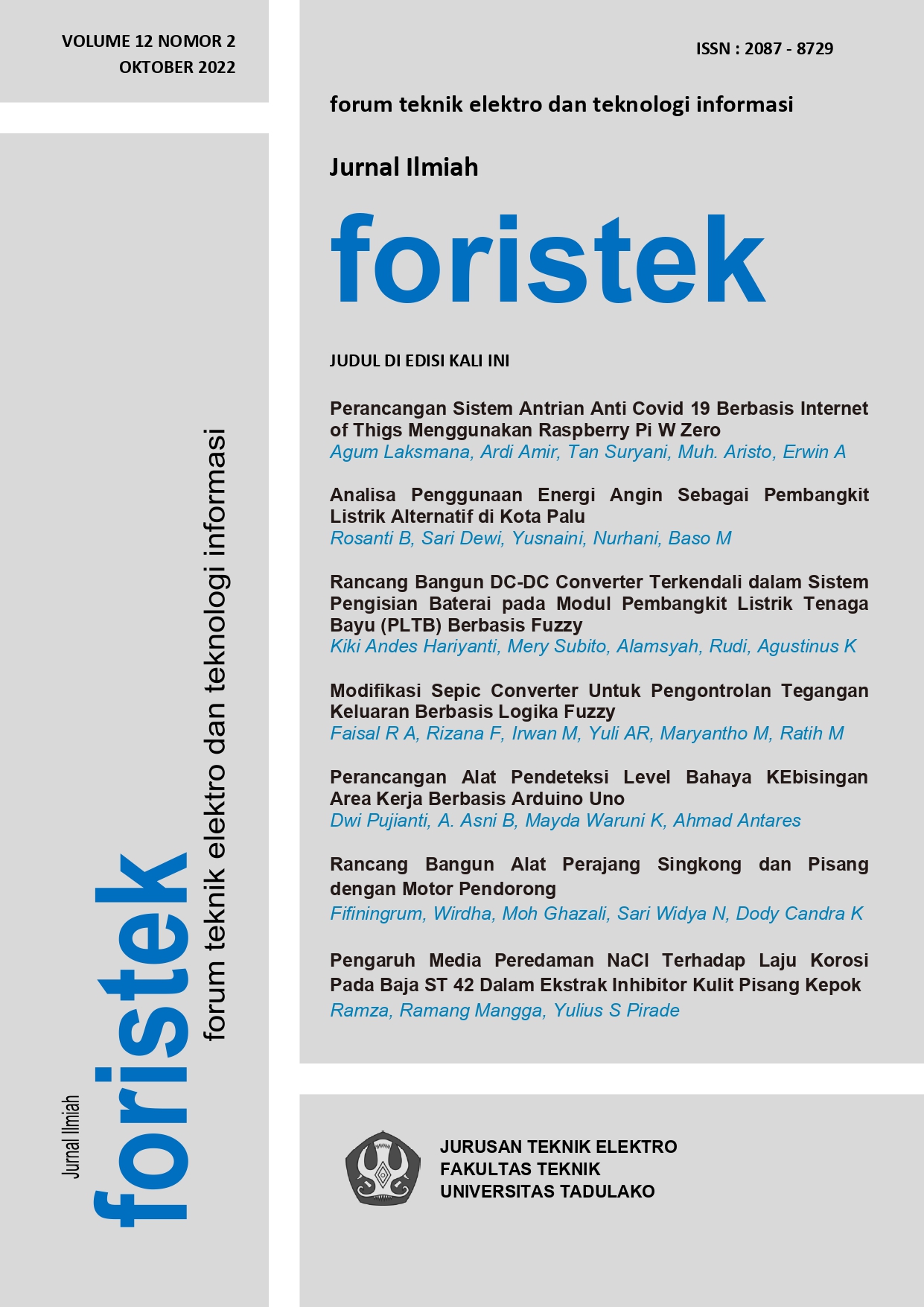 Downloads
How to Cite
[1]
A. . Laksmana, A. Amir, T. S. Sollu, and M. A. Indrajaya, "PERANCANGAN SISTEM ANTRIAN ANTI COVID 19 BERBASIS INTERNET of THINGS MENGGUNAKAN RASPBERRY Pi W ZERO", Fs, vol. 13, no. 2, Nov. 2022.
License
Copyright (c) 2022 Agum Laksmana, Ardi Amir, Tan Suryani Sollu, Muhammad Aristo Indrajaya
This work is licensed under a Creative Commons Attribution 4.0 International License.