RANCANG BANGUN SISTEM INFUS CERDAS
Keywords:
microcontroller, nodemcu esp8266, optocoupler, load cell, mini servo sg90, smart infusion.
Abstract
The rapid development of the world of technology that covers almost all sides of life has encouraged innovation and human creation to make various tools with automatic work systems. Giving fluids using intravenous fluids is one way to enter fluids intravenously to meet the needs of fluids, electrolytes, drug administration, and feeding. The process of replacing intravenous fluids that has reached the minimum replacement limit must be carried out promptly and quickly, so that there will be no delay in changing intravenous fluids which will result in unstable pressure on the infusion set which will result in blood clots.
infusion set which will result in blood clots.
In its testing, this tool can display information on the total number of intravenous fluid drops, and the condition of the remaining infusion fluid level on the LCD, as well as an additional display of the number of intravenous fluid drops per minute on theapplications client PC and / or smartphone. Adjusting the position of the mini servo of the infusion tap, can be adjusted when the appliance is not or not connected to the client. The sensor optocoupler used can also detect every drop of intravenous fluid. The reading of the sensor optocoupler used can experience an error by a difference of 100% if the dripping of the intravenous fluid is too slow. This is caused by the drip that is read twice by the sensor because one drop of intravenous fluid is read again after more than 50 milli second.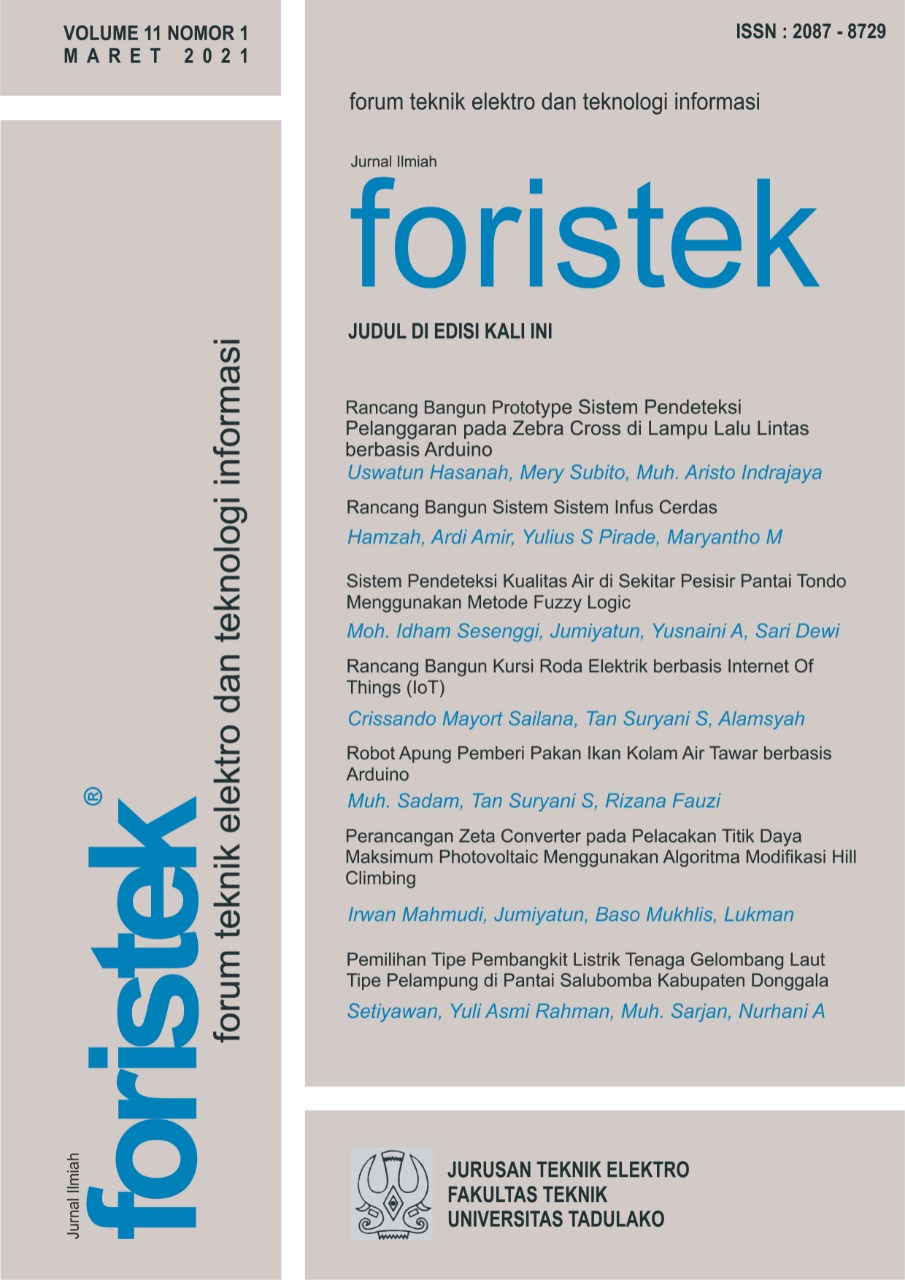 Downloads
How to Cite
[1]
H. Hamzah, A. Amir, Y. S. Pirade, and M. Masarrang, "RANCANG BANGUN SISTEM INFUS CERDAS", Fs, vol. 11, no. 1, pp. 8–19, May 2021.
License
Copyright (c) 2021 Hamzah Hamzah, Ardi Amir, Yulius S. Pirade, Maryantho Masarrang
This work is licensed under a Creative Commons Attribution 4.0 International License.