ANALISA PENGGUNAAN ENERGI ANGIN SEBAGAI PEMBANGKIT LISTRIK ALTERNATIF DI KOTA PALU
Keywords:
wind turbine, renewable energy, HOMER, energy production cost
Abstract
Currently, the energy we use is still using fossil energy. In the future, the need for energy will increase because every year there is a large population growth. If you still use fossil energy and don't find new energy alternatives, then Indonesia will experience a severe energy crisis and certain places will experience blackouts. One of the efforts so that the wind energy crisis can be minimized is to utilize natural energy that has the potensial to generate energy such as the Wind Power Plant. In this study, planning and simulation of Wind Power Plant were carried out to help reduce the use of fossil energy and help the needs of the community in the Talise Beach area. From the results of the study that the average output of wind turbine production is 1,180/hour winh a maximum production of wind turbines per day of 5,665 kW and the construction system cost (NPC) of Rp. 91,340,660,000. Electrical energy that can be generated from wind turbines by utilizing an area of about 42,021.67 m2 is 10,332,498 kWh/year with a total unfulfilled power of 1,416 kW/year. Lack of power or unmet load can be overcome by the existence of a grid/network.
References
Dewi, S. (2010). Analisis Teknis Pemanfaatan Energi Angin di Palu (Indonesia). Thesis. Master's Degree Programme Power Engineering Brandenburg University of Technology. Jerman.
Kurniadi, S. (2018). Skripsi studi eksperimental turbin angin savonius tiga sudu untuk penerangan sebagai energi terbarukan.
Saputra, I. (2021), Analisis Potensi Pembangkit Listrik Tenaga Hibrida Pada Pesisir Pantai Labu Menggunakan Software Homer. Skripsi. Teknik Elektro Universitas Muhammadiyah Sumatra Utara. Medan.
Sheptiawan, A., Notosudjono, D., & Fiddiansyah, D. (2001). Studi Potensi Energi Angin di Merak Banten untuk Membangkitkan Energi Listrik. Universitas Pakuan Bogor, 1–16.
Yusphie, A., Tentra, P., Christover, D., Rozikin, M. S., & Fitria, B. (2019). Analisis Kecepatan Angin Pesisir Pantai Monpera Sebagai Sumber Energi Terbarukan Kota Balikpapan. 7(1).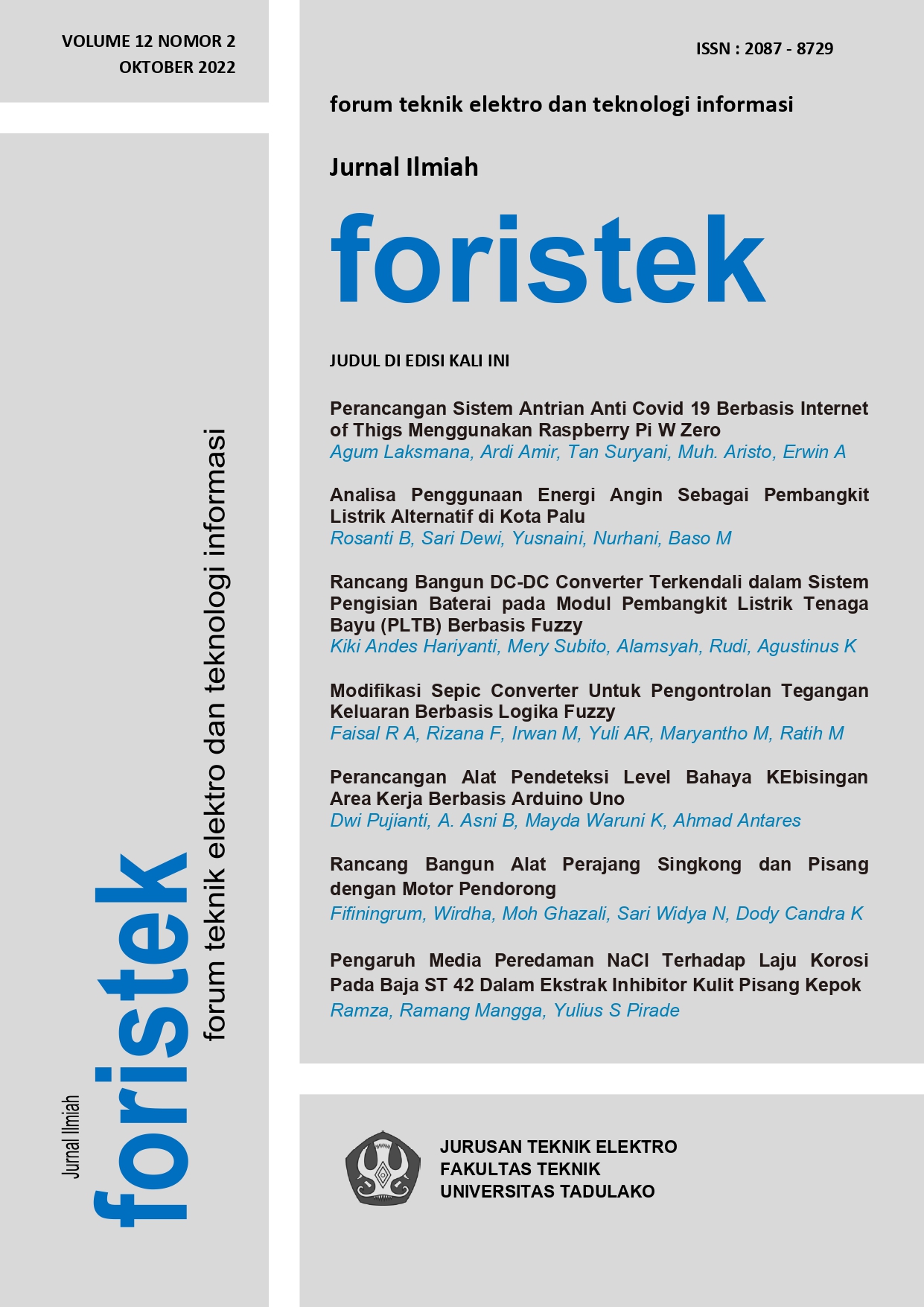 Downloads
How to Cite
[1]
R. B., S. Dewi, Y. . Arifin, N. Amin, and B. Mukhlis, "ANALISA PENGGUNAAN ENERGI ANGIN SEBAGAI PEMBANGKIT LISTRIK ALTERNATIF DI KOTA PALU", Fs, vol. 13, no. 2, Nov. 2022.
License
Copyright (c) 2022 Rosanti B., Sari Dewi, Yusnaini Arifin, Nurhani Amin, Baso Mukhlis
This work is licensed under a Creative Commons Attribution 4.0 International License.